WHO'D HAVE THOUGHT THAT SNOW FALLS (2021)
Scenic video-choir-sound installation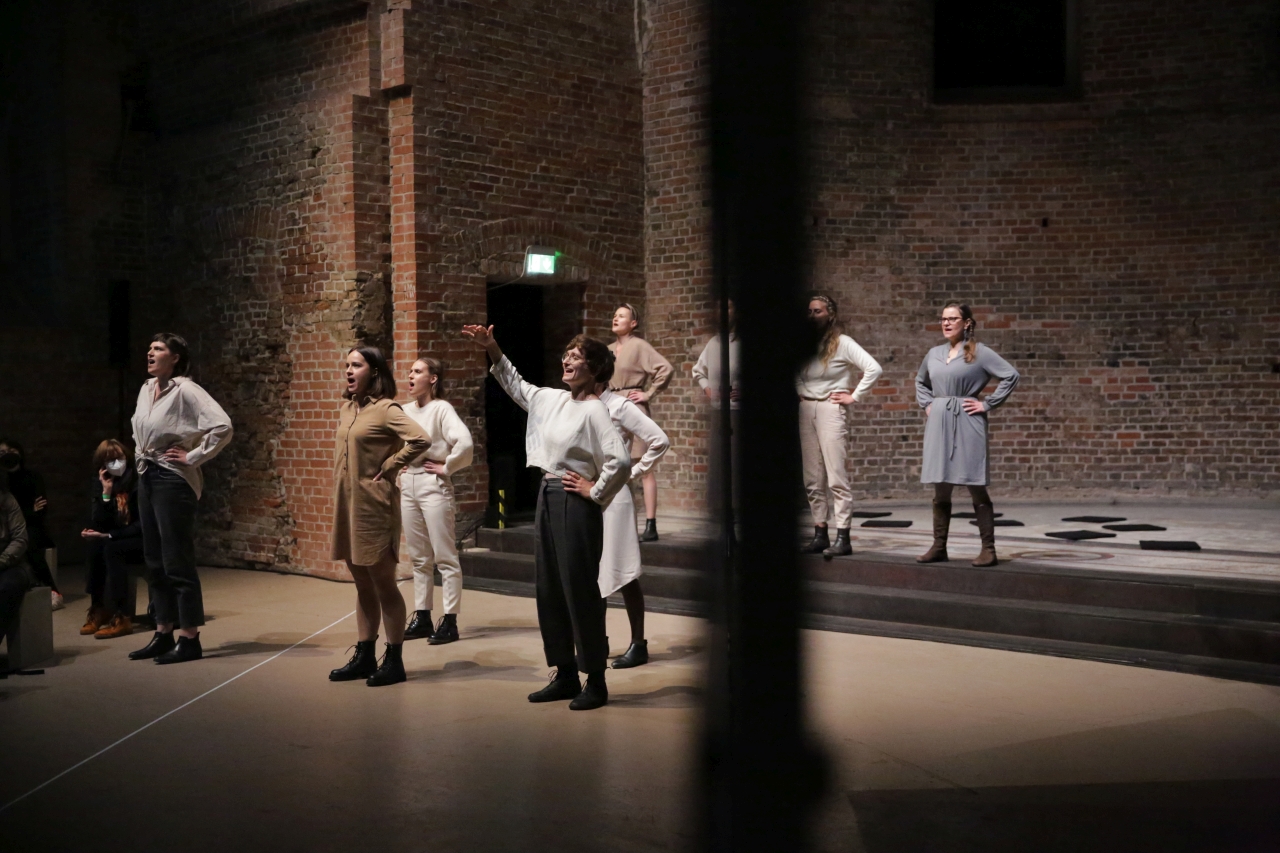 We can never perceive voices as such, never "pure". They always mingle with the sounds of the surroundings. But the body that produces the voice is also influenced by the environment and surroundings. Starting from this assumption, we first ask the question: How does war affect the voice, as an experience that makes everything known collapse with incredible violence? In cooperation with folklore singers from Eastern Ukraine, we will develop narrative and audio-visual material. These narratives and voices are brought into dialogue with the war wounded space of the St. Elisabeth Church in Berlin-Mitte. A Berlin lay choir acts as a link between the space, the voices from the Ukraine and the visitors. As the voices of the war resonate into Berlin's cultural landscape in this way, another question arises: to what extent can the voice be a transmitter of experiences? As an acoustic event it is able to set other bodies in vibration. Is what is inscribed in it also transmitted? Is it possible that the experiences of the singers can echo and inscribe in us through their distant, war-torn voices? With reference to the history of St. Elizabeth's Church, we will continue to ask to what extent the war experiences of our parents and grandparents continue to be inscribed in our voices. Although the war in eastern Ukraine is taking place in the geographical centre of Europe, it is almost forgotten. It is something from which we distance ourselves. But the walls become brittle when the war experiences come to us in the form of voices, as sound events. Through the phenomenon of the voice and the effects of acoustics, we investigate the non-linguistic influences that significantly determine our identities, even at a distance and even over generations.
Artistic direction: Matthias Schönijahn
Choir direction / Choir composition: Paulina Miu Kühling
Sound design: Johannes van Bebber & Martyna Poznańska
Dramaturgy / Choreography: Rose Beermann
Scientific advice: Vlada Rusina
With voices of singers from Eastern Ukraine and Berlin amateur singers
supported by Senatsverwaltung für Kultur und Europa, Hauptstadtkulturfonds 2021.